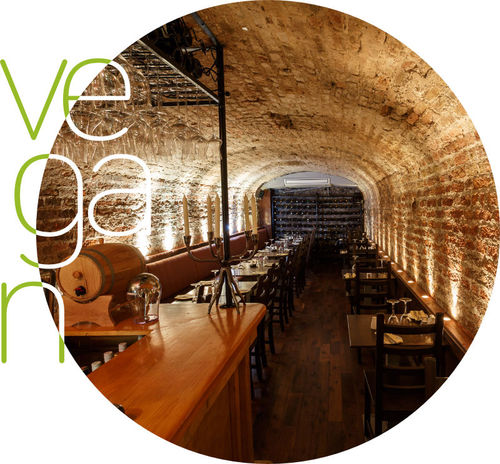 Restaurant
La Caverna Restaurant and Wine Bar is an Italian restaurant located in the heart of Dublin Fair City in the famous Temple Bar. This convenient location makes La Caverna a favourite amongst Dubliners and tourists alike. The restaurant has 3 floors and can cater for 100 diners at any given time meaning it is a fantastic location for group booking such as parties.

La Caverna Restaurant and Wine Bar welcome all the guest to try our vegan menu, prepared by our passionate kitchen team. We are very happy to promote diversity on our menu. We invite all the patrons visiting the area of Temple Bar who are either vegans or not, hence they can dine end enjoy the quality time together. The food here can only be described as authentic – the Italian cuisine the way it should be, with the Irish and Mediterranean influences. Your dining experience could start with the vegan bruschetta, spinach tartlets or warming minestrone soup. The signature main vegan dishes such as the pizza and risotto are one of the most popular ones. The vegan burger and pasta primavera is our diner's favourite also. You always must leave some room for desserts - our amazing vegan brownie with vegan ice cream or tropical sorbet - very refreshing.
Our vegan wines are unique in taste and satisfy the palates of the wine connoisseurs.

La Caverna Restaurant and Wine Bar is a cosy place based in the heart of Temple Bar, one of the most vibrant and popular area in Dublin. We have a lovely restaurant with scrumptious dishes, over 150 bottles wine at prices that are most reasonable and also other beers and spirits. Its authenticity is accentuated by the fresh, original dishes from Ireland including selection of fish, steaks, lamb, duck, venison, chicken (all delivered by the local providers) and some Italian specialities. It caters also for vegans and vegetarians. It is built on the rich Irish spirit that makes a gathering place feel like home.

The Restaurant has 3 separate, private dining rooms - one of them being the cellar, a 300 years old room transformed into a beautiful dining room and a wine bar. The ground floor is a spacious room with the large mirrors. The top floor has a truly intimate atmosphere by loads of candles placed on unique brick wall.

With the capacity of 100 seats, we've become a neighbourhood favourite for corporate events, wedding dinners, birthday and office parties, wine tastings and much more. We can offer special menu tailored to your demands. Our private party event staffs are proud to be working with dozens of businesses in the Dublin area all year round in an easy and flexible fashion to maximize every event.